Dog training courses to teach every dog to be a scentwork dog. Simple, effective, addictive.
I'm so excited that you have found me and my online scentwork school! Enjoying scentwork games with my dog is one of my all time favourite activities and to be able to share that joy with you is a real privilege. Even though I was a professional detector dog handler, when it came to teaching my pet dog those same sniffing skills I quickly learned that my dog needed different support and a different style of teaching. With no suitable resources - 'after all, pet dogs can't be detector dogs!' (yes, people really said that to me) - I devised my own system. Based on best practice and firmly founded in operational skill sets, I combined my scentwork skills with my long experience of teaching all sorts of pet dogs. An instant success with my clients, Talking Dogs Scentwork® was born.
Now it's your turn to get involved. Don't limit your dog, don't limit yourself. I've made it super easy to learn step by step all the skills you'll need to be a super scentwork team. In as little as 10 minutes you can teach your dog to identify a specific scent and before you know it, you will be searching like a pro! You don't have to be a dog trainer, all you need is a dog, a scent and a reward and off you go. If you, or your dog, have any restrictions, including health, physical or behavioural, scentwork is perfect for you. Every person and every dog can get involved. There are no limits in scentwork. You and your dog can work together as little or as often as you want, indoors or outdoors, with tricky or straightforward searches that suit your skill levels and ambitions. All the lessons and advice are positive reward based training, designed to help all dogs, whether food or toy oriented, no matter their age or breed type, and requires zero prior training or scentwork experience. Really - your dog doesn't have to know anything before learning how to sniff for a specific scent.
These courses show you how to harness your dog's natural ability to sniff and to use this skill to improve your life, and your dog's life. By engaging with your dog in an activity that she already loves you can quickly help your dog to pay more attention to you, to be able to concentrate and in turn feel tired and relaxed. Calm dogs live longer (stress has been shown to be detrimental to the health of dogs and people), are happier and are more rewarding companions. Whatever you are looking for, be it help to focus your dog, help her to adore you rather than ignore you or simply teach your dog a fabulous skill for fun, I have the right course for you.
I know it can be scary to set a new goal. Would I be wrong to say that dog training isn't as easy as it looks? But I have taught so many dogs and coached so many people that this training method has been tested and honed to within an inch of it's life. I know you can do it and I know that your dog will love it!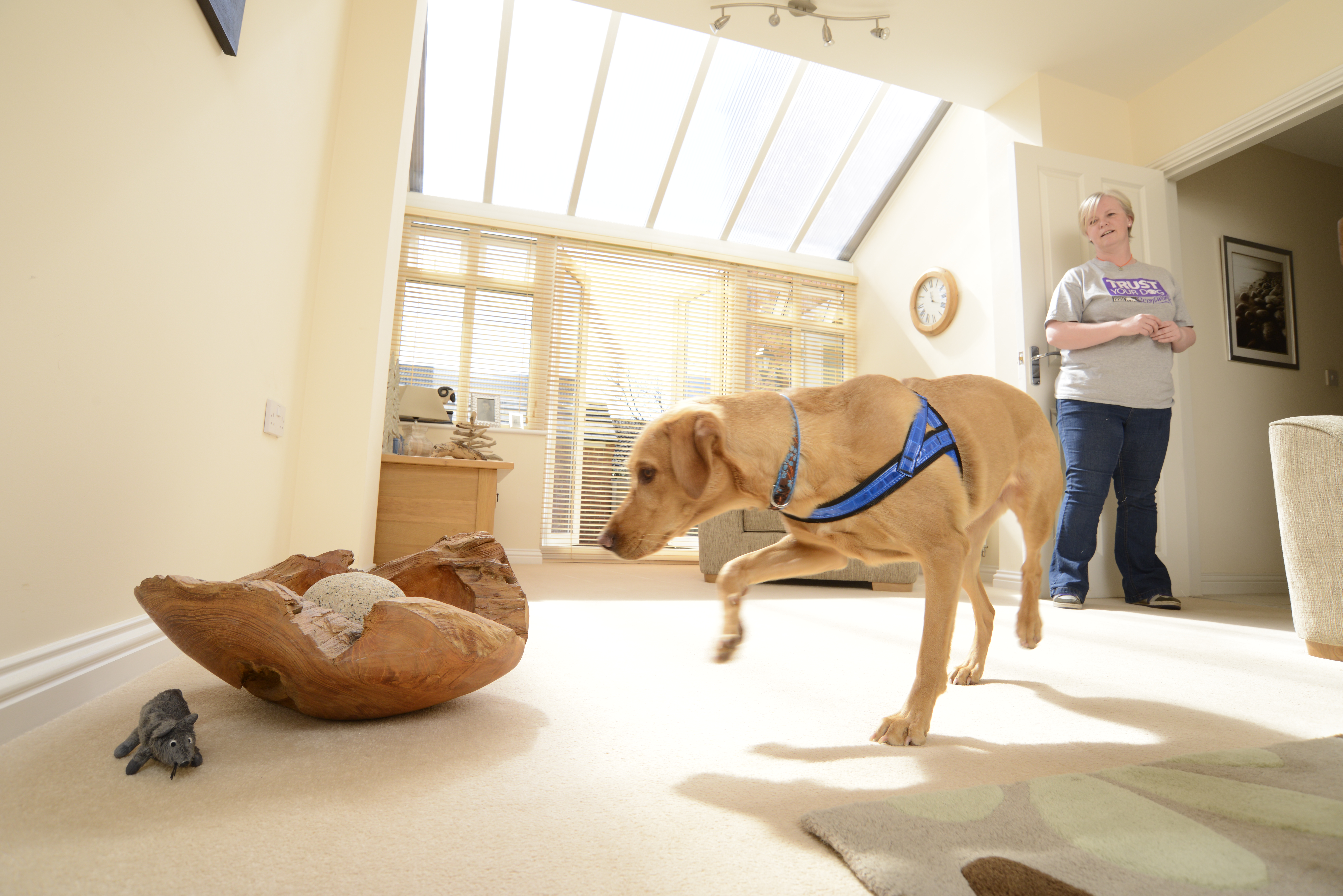 Teach Your Dog to Sniff!
If you are brand new to scentwork, Teach your dog to sniff! is the perfect place to start your scentwork journey. This course includes all the essentials, from choosing the perfect scent, to introducing it to your dog, starting to search and learning how to support your dog from the very beginning. With zero previous training all dogs can learn how to be detector dogs.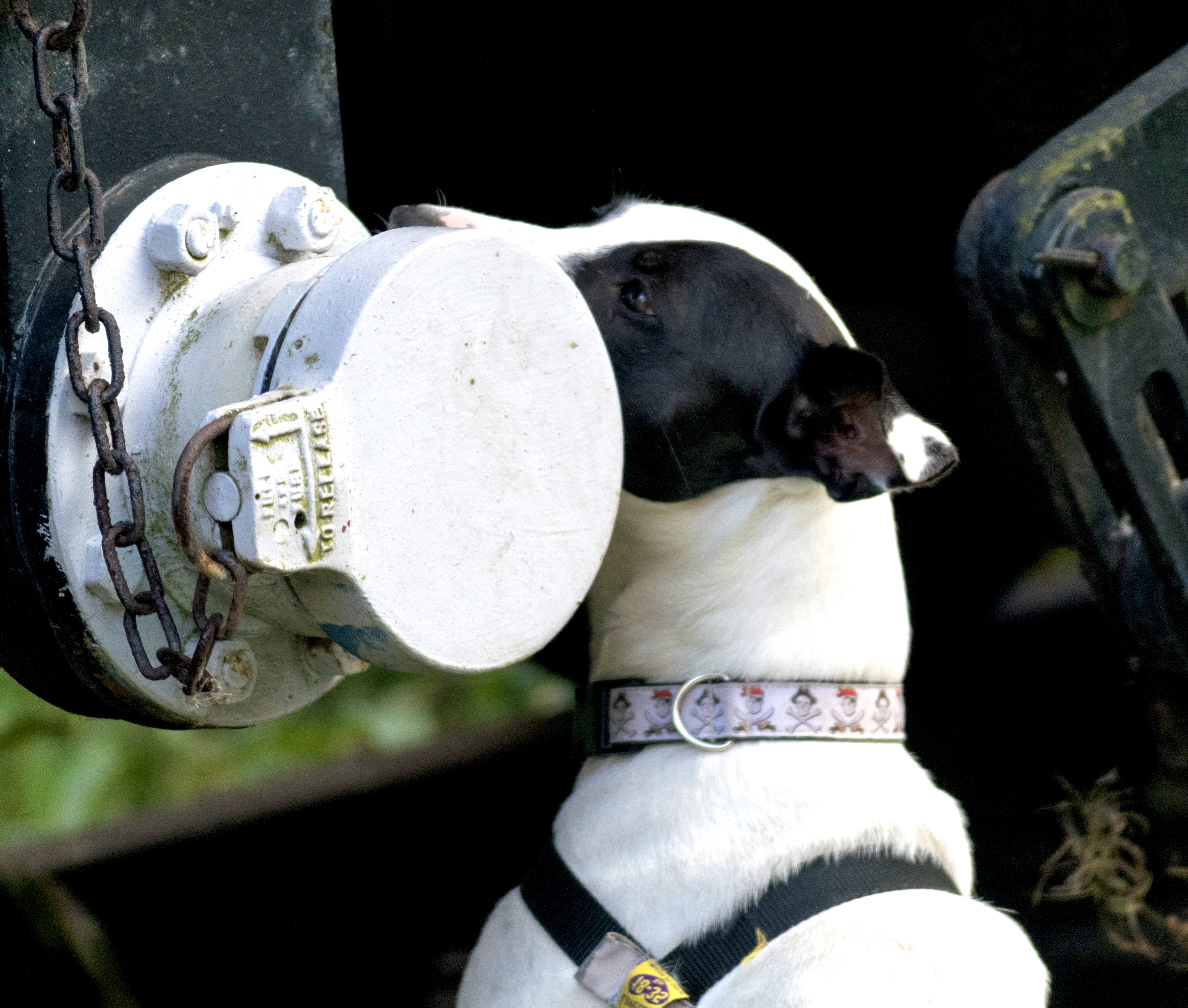 Scentwork Skills
Scentwork Skills is the next stop on your journey. Learn the pro tips that set the foundations for all your future searches. By paying attention to handling skills your dog learns just how important and useful you are. Important life lessons.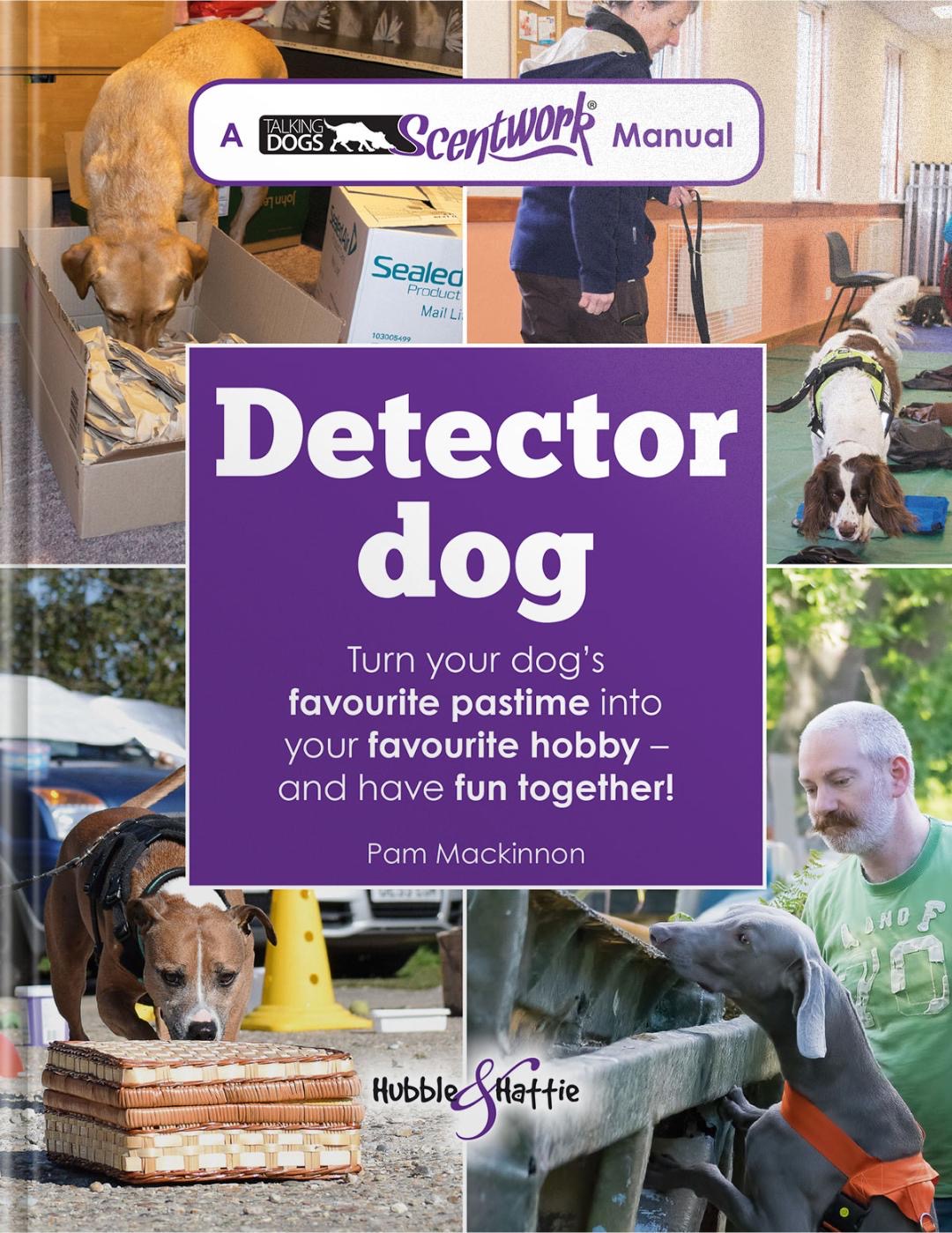 Get the manual
I wrote this manual for you, and for your dog. With easy to understand text supported by lots of photos, this will quickly become your go-to resource.
You can aim for a brighter future with your dog if you can work together, play together 
and have a better understanding of each other. 
You know this. But you might be thinking that you can't learn dog training online, or that it will be too complicated or too time consuming. Would I have had a successful 30 year career as a dog trainer if I didn't know how to break skills down into achievable steps? Or if I couldn't explain why to choose one method over another without drowning you in a sea of jargon? You're smart, you know when something isn't genuine and you know when claims are made if they smell true or not.
What I know is that teaching scentwork has been life changing for me and for my clients. It's emotional, it's inspirational and it's magical - to see our pet dogs strutting their scentwork stuff brings such strong feelings of pride and respect, who wouldn't want to feel that?
See what our students think of the courses:
'I just love the way Pam explains everything, leaving nothing to chance. So, even though I wanted something that was just a fun game for my dog to enrich his life and build our relationship the course had enough depth to ensure we got it right but didn't bog us down too much detail either if that makes sense!'
'I have recently bought the first online course 'Teach your dog to sniff'. Your style is great. Everything is very clear and well explained. I have watched it through once to understand what it's all about and am just planning starting with my dog. I love the fact that I can go back to it at any time. Really helpful.'
Students from all over the world are loving the courses. 
Current enrolments include students from Finland, Denmark, Spain, USA & UK 
Our feedback surveys show that students find the courses:
practical
high quality
reliable
meet their needs
excellent value for money
they are extremely likely to enrol on more of my courses
Here's your roadmap
Pick the best place to start for you and your dog. You might be right at the beginning of your journey or already a little way down the road. Stop off to do some extra courses along the way as you travel towards Handler Certification, the benchmark of your achievements. But remember, take your time, enjoy the view, and don't be afraid to go off the beaten path, only you know your final destination.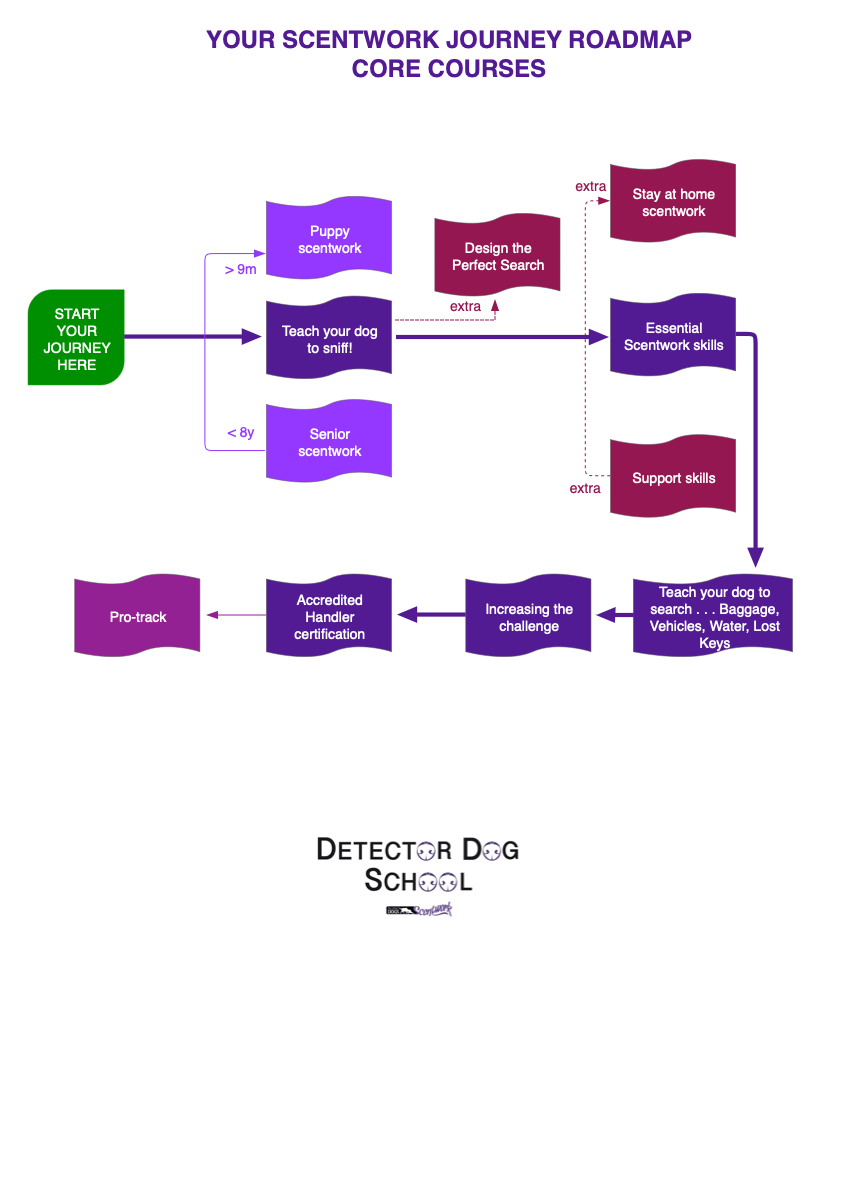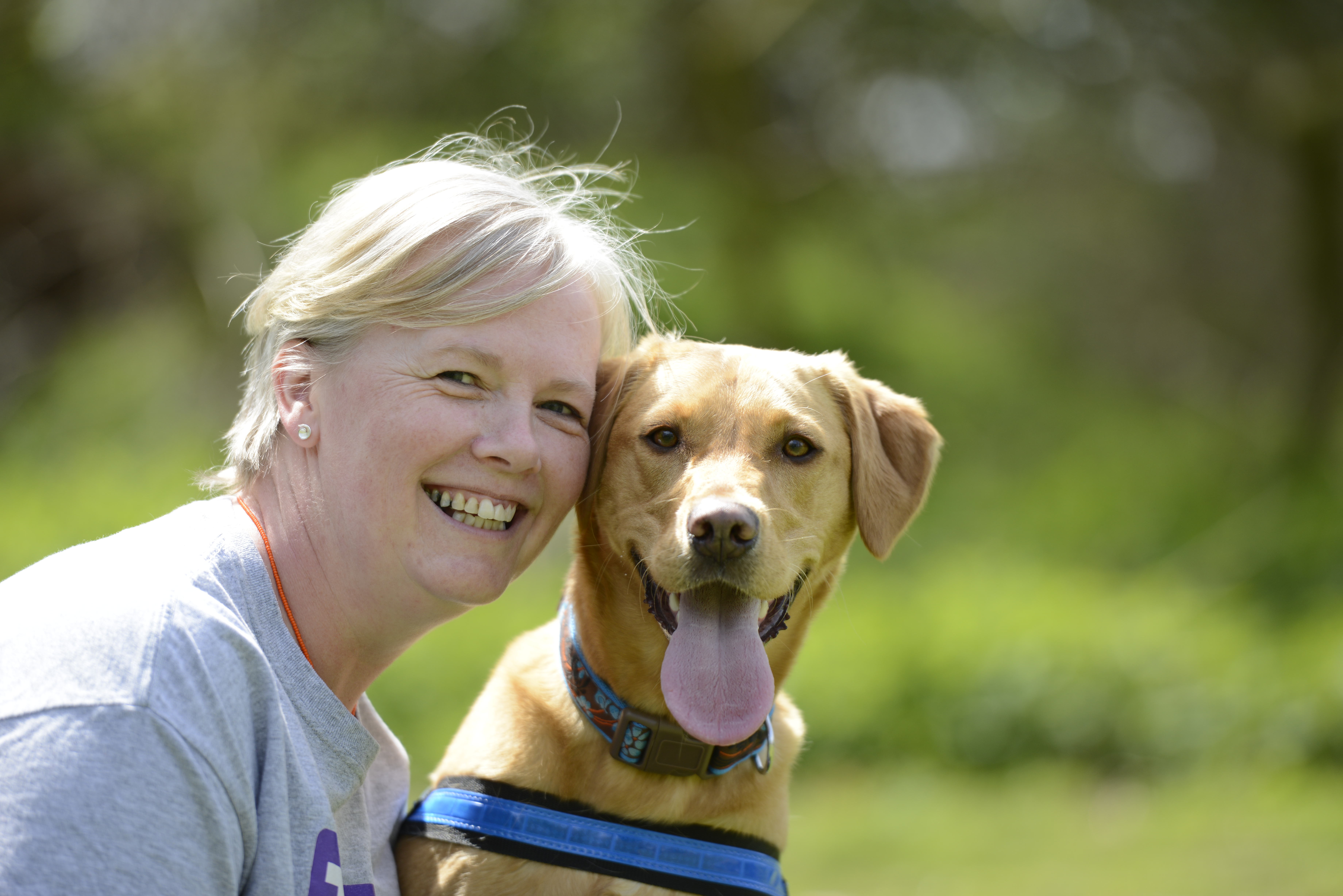 Hi, I'm Pam Mackinnon, with my clever labrador Cherry Blossom
I'm here to guide you through the courses, to take you by the hand, or leash, and help you to become a scentwork team. I've coached thousands of dogs and people throughout my 30 years, and still nothing gives me more pleasure than those lightbulb moments when the team understands the task and achieves the skill. 
We all start somewhere and my job is to share my experience to make it easy for you and your dog be a successful scentwork team. I've combined my operational experience as a drug detector dog handler with HM Customs with my long career as a pet dog trainer and behaviour consultant to bring you this proven method of teaching your dog to sniff for a specific scent.