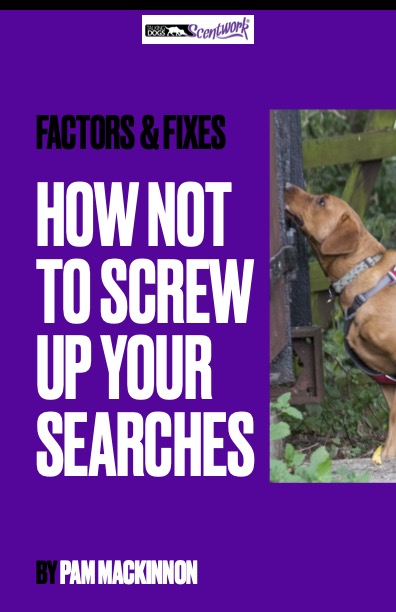 Don't get screwed, get wise!

This book started as an idea for a one page infographic but once I started I couldn't stop. 12,000 words and a three page infographic later, I'm excited to bring you my new ebook. In this book, I'm looking at the factors that can screw up your searches. The 'little' things that can affect your searches and undermine your dog. Not considering them is akin to self sabotage as they can all be avoided.

I've packed in as much useful, practical information as I can to help you avoid the most common and easily preventable factors that could screw up your searches. And I've included clickable links where you can get more information on lots of the topics I raise. Plus you get the new 3 page infographic too!
I've split the book into four sections, each examining a set of factors under the headings of Wellbeing, Environment, Environment: Distractions and Handler. I'll explain each factor, discussing why it's an issue. And supply the fix to help you successfully prevent or fix it.

This is the ideal companion book for scentwork teams at all stages of learning. Just as useful for individual teams working at home as for scentwork trainers teaching clients.
47 pages, 3 printables, comes as a downloadable PDF


FREE!
Included with this ebook:
Factors & Fixes Infographic Set


Want a quick, easy reference guide to the factors and fixes that I detail in this book? Look no further than my companion infographic. Each of the three graphics gives the factors and their corresponding fixes using graphics and just a few words of text. Ideal for using in class as posters or handouts. Or for using at home a quick glance guides.