Dog training and behaviour work can be a lonely business. More often than not we work alone. Finding somebody to bounce ideas off, or ask advice from can be extremely difficult. Even in these days of mass communication, having a like-minded professional that you can confide in, that you can ask the awkward or difficult questions of, that can listen to your plans and help you figure out how to make them real is nigh on impossible.
Having the opportunity to have someone who you might have seen speak at a conference or who has written a book you've read or delivered a workshop you've attended give you a solid hour of their time isn't easy to arrange. Until now. I am so excited to be able to offer you my undivided attention. Coaching is about bringing out the best in people, helping them to find their own way forward. So while I don't have all the answers, and even if I do I won't necessarily give them up right away, I will help you work to find them yourself. To realise your own potential. To find your own confidence to problem solve and trail blaze.
I've split my coaching sessions into two parts. You can book a single session to clarify your thoughts, address your concerns or put plans in place. Or you can sign up for regular check-in sessions where you can be held accountable for reaching milestones, or can appraise your progress over the past month, or lay foundations for the next month. Or just talk over your month as a way to process it and clear you mind for the following month. I can be your sounding board, your confidante, your 'guru'!
How does it all work?
It's so easy!
Start by filling in the intake form that let's me know a little about your scentwork experience and what you'd like to achieve from the coaching.
I can then review your information to see if we could be a good fit to work together. If so, I'll approve your application. Then you'll receive an email with a link to the check-out page where you can select which coaching product you'd like - a single session or the 3 or 6 month Check-in packages. Hit the 'Buy now' button, pay and then you are all set.
The next step is to book your first session. You pick the date and time which I will then see. Then I can set up a Zoom meeting for us to get together. You will see that in this space we can send each other messages, I can check in to see how you are getting on, set assignments and keep in touch. This is our private space where we can work together to achieve your goals.
I taylor the coaching specifically to you so that you never have to worry about rushing or feeling pressured. I'm here for you and want you to succeed. So let's get started!
My Scentwork Guru Online Coaching fee is £50 (+vat) for a single session, £120 (+vat) for a 3 month Check-in package (3 sessions) or £210 (+vat) for the 6 month Check-in package (6 sessions)
Note:
I can only take on a limited number of clients for Private Coaching at any one time, so if you would like to get involved, don't delay booking in with me - or you might miss out!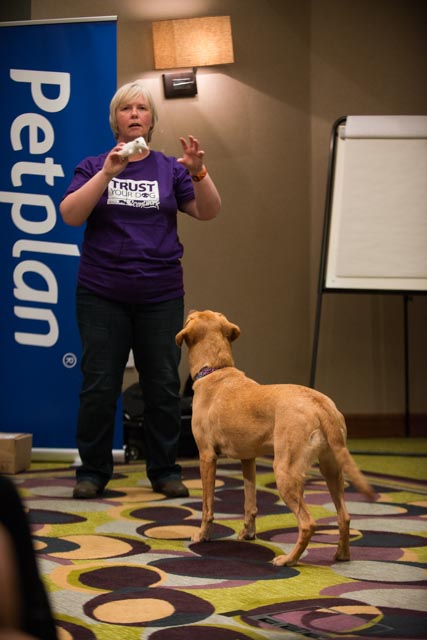 Hi, I'm Pam
I'm the founder and director of Talking Dogs Scentwork®. I've been teaching people and their dogs for 30 years and am dedicated to helping fellow trainers spread the love of scentwork to their clients. Does that make me a guru? I very much doubt it. But I do have a wealth of experience, knowledge, understanding, and a sense of humour, that I can share with you.
I've run set length courses, continuous intake classes, 121s and one, two, three and even four (never again!) day workshops. I've spoken at charity events and major international conferences, done interviews in print, podcast, radio and TV. I've written articles, blogs, books and courses. I've worked privately, in rescue, with assistance dogs and for government. So the chances are that wherever you are in your professional career, I've been there too. And I'm still learning, still building my experience. Let me help you build yours so that you can pass on your knowledge to the next generation.
Your intake form has been submitted. Check your email for a copy of your responses. If you're accepted, you'll receive an email with a link to checkout.
Frequently Asked Questions
Can I get a refund if I'm unhappy with my purchase?
If you are unsatisfied with your coaching, reach out to us to see if your purchase is eligible for a refund.
How do I schedule my appointment?
Upon purchasing coaching, you'll receive further instructions on how to book a time for your appointment.
Can I purchase coaching more than once?
Absolutely! If you find yourself in need of coaching more than once, simply purchase the coaching again.