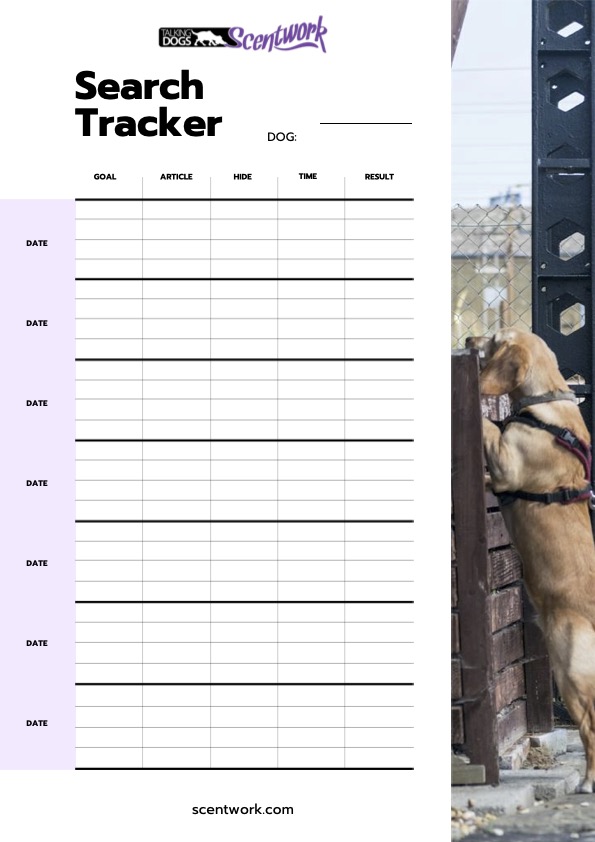 Never lose track

Keeping track of your searches is the best way to make a record of your scentwork progress. It stops you repeating the same old searches, using the same old hiding places. It let's you see at a glance how long your dog is working for and what sort of finds she is locating.
It can be difficult, if not impossible, to remember the details of every search. Especially hard when using mixed materials, varying search locations and keeping hides fresh and new. Even harder if you are working more than one dog! But with this simple to use Search Tracker you don't have to remember.

You can print it out as often as you like, adding new sheets every week or month depending on how many searches you do. Pin them to your fridge or place them to a folder so that you can see at a glance what you've done and where you need to go next. Chart duration, location and temptation. See what, where and why your dog finds some targets easily while others pose more of a challenge. Set and achieve goals, work out issues and celebrate successes using the TDS Search Tracker.
Download and print out as often as you want. (A4)

Make the most of this great resource and training aid by filling it in after every search. By recording the details of each search you can easily see what sort of articles your dog is searching for, where, search duration and if the result matched your goal.
You can print out new sheets as often as you like. Different sheets for different dogs. Or for different searches types. For example, you might want to log your outdoor searches in order to spot distractions. Or chart the progress of every search with your new puppy.
Make completing the tracker a regular part of your search routine by filling it in at the end of every search.
If you teach scentwork, you can also use this to keep a record of how your clients are doing. Make sure you are increasing the challenge and ringing the changes at an appropriate rate and scale for each client.