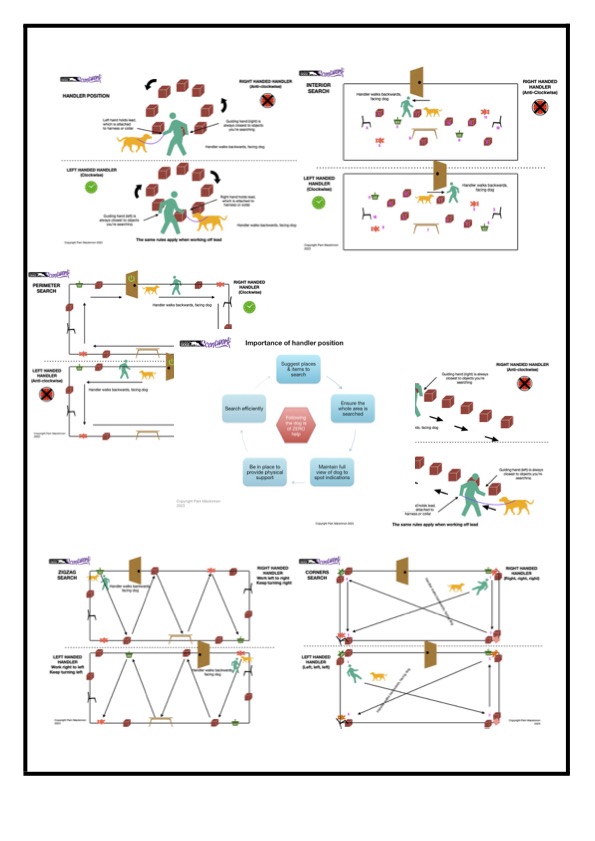 Handler Position Inforgraphics Set
Helping clients figure out where they should be in relation to their dog can be tricky. I designed these graphics to use with my own clients so I know they will help your clients too.
Each of the 7 downloadable and printable graphics shows the handler position for both left and right handed handlers. Easily see where to be during on or off lead searches. Easily learn which direction to move whether searching in a straight line or a circle, perimeter or interior, corners or zigzag patterns. Plus why handler position is so important.
This is a great resource for trainers to handout in class, use as posters at training venues and to support clients. But also for non-trainers to stick on your fridge to help you remember where you should be at all times during your searches.  

Essential Scentwork Skills

You've taught your dog how to find a specific scent, but what now? How do you develop concentration? How to you build teamwork? How do you succeed together? Simple - you enrol on this course!

I know that you want to be able to search exciting places but still keep your dog safe from harm.

And I know that you want your dog to work in more detail but keep searching fun, but you're not sure of how best to achieve that.

I even know that you want to be able to search for longer and be more efficient, but don't know how to do that.

Never worry, I know how to help you achieve all that. I walk you through all these issues. Sharing my knowledge and experience, I'll show you the most effective techniques to make every search more effective, more efficient and most importantly, more exciting!
The Handler Position Infographics Set is included with this course.