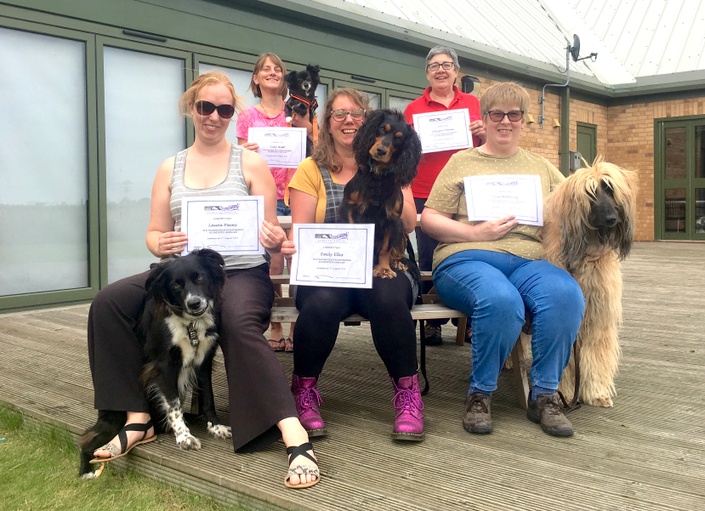 Accredited Handler Certification
Talking Dogs Scentwork® Accredited Handler (Scent 6)
Talking Dogs Scentwork® Handler Accreditation is designed to give handlers a benchmark achievement, a certificate to show just how much you have learned about scentwork. As you go through your scentwork journey, you often do not realise just how many skills and how much knowledge you are acquiring along the way. The Talking Dogs Scentwork® Accredited Handler Certificate is gained by those who:
have introduced their dog to finding and indicating on a specific scent

can recognise their dog's indications and respond appropriately

as a team of dog and handler, learned search stamina and duration

know how to move and handle throughout the search

have taught their dog to search through a variety of different materials, e.g. cardboard, cloth, plastic, suitcases, bags

have taught their dog to locate simple finds and layered finds with smaller scent pictures

can work double blind (neither dog nor handler knows in advance where the find has been hidden)

work closely as a team, fully supporting their dog, physically, emotionally and behaviourally

conduct searches logically and efficiently following a search plan
My very strong recommendation is that you do not attempt this course until you have completed Scent 1-5 and/or completed the Detector Dog School courses Teach your dog to sniff, Scentwork skills, Baggage searches and Increasing the challenge (more cost effective to enrol on the Super Sniffer Bundle) and studied the TDS manual 'Detector Dog' written by me, Pam Mackinnon. Without the skills and knowledge gained through those courses and reading, it is highly unlikely that you will achieve Talking Dogs Scentwork® Handler Accreditation.
Candidates are encouraged to practise hard before signing up for Talking Dogs Scentwork® Handler Accreditation. You have lifetime access to all your online courses and previous in-person courses workshops can be repeated as often as required before Scent 6. There is no hurry, only go for Handler Accreditation when you feel ready. But when you are ready, you will find that achieving this gives such a boost to your confidence that you will be flying high as you take the next leg in your scentwork journey. Having the confidence to know that you are doing great job, that you are looking after your canine teammate and that you are both loving and thriving throughout the process is the best feeling in the world.

It's important to point out that this accreditation is all about you. This is not about testing your dog's skills, it's about gauging the handler's skills. Too often the poor dog is the subject of trials and tests when in fact they always do their best according to what their handler has taught them and how much practise they've had and experience they've gained. We, the handlers, are our dogs' best assets when it comes to scentwork, we can make or, sadly, break them. So striving to be your dog's strongest and most effect scentwork ally is a goal extremely well worth achieving.
Benefits of Accreditation

Candidates get detailed feedback on their searches which are graded by me (Pam)

Candidates understand just how much they have learned by reaching this momentous benchmark
Accredited Handlers will be eligible to join the Talking Dogs Scentwork® Trainer Subscription Scheme on the Professional Trainer tier. They will also have access to Accredited Handler merchandise.
Course Curriculum
Important - Before you get started . . .
Available in days
days after you enrol
Online Test
Available in days
days after you enrol
Search 1
Available in days
days after you enrol
All of these handlers, and many more, were once in your position,
trying to decide if they were ready to apply to become
Talking Dogs Scentwork® Accredited Handlers.
So come on, be brave, take that step and add your smile to the gallery!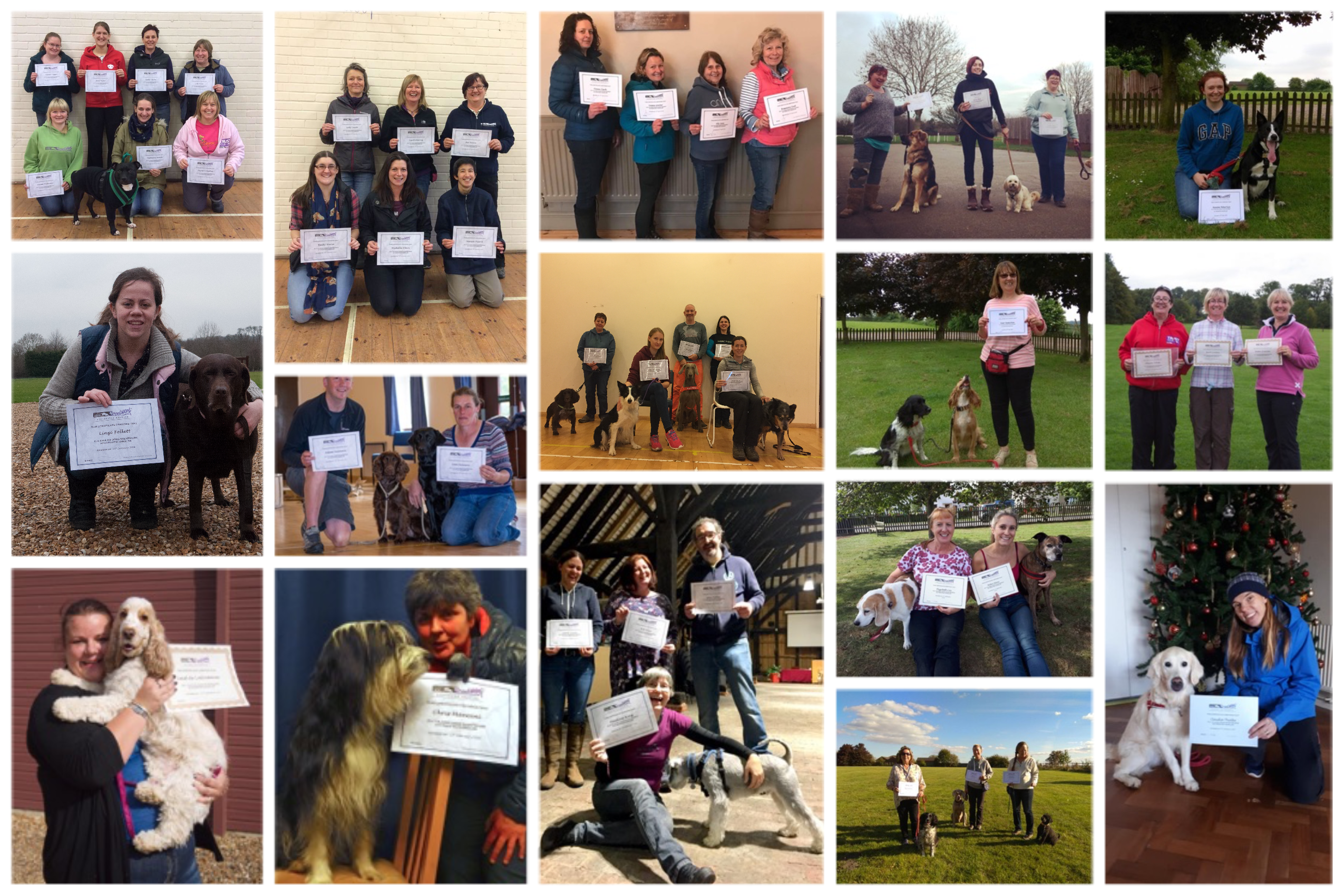 Frequently Asked Questions
What form does this assessment take?
It comprises a graded multiple choice test plus two searches, one indoor and one outdoor, which you film and send to me to be graded.
If I do not achieve the required grades, can I resit?
Yes. You can have your multiple choice test reset once, and you can resubmit each of your searches once. If you have not reached the required grades at that point, you can start again by paying a small additional fee.
Can I work more than one dog during this course?
Yes, if you wish you can use different dogs for different searches.
Is this course suitable for all scentwork dogs?
Yes, the searches in this course have been designed so that they are suitable for ALL scent working dogs whatever their size or physical abilities. This means that no matter your dog's breed type, age or health she will be working through the same searches parameters as every other dog who goes through this course.
Do I have to submit footage of me and my dog searching?
Yes, by sending me your footage, I can assess it to make sure you have learned all the skills you need to become an Accredited Handler.
Will I receive a certificate if I achieve the TDS Accredited Handler certification?
Yes, of course! Pam will email all the successfully candidates their certificates along with detailed feedback on their searches
Your Instructor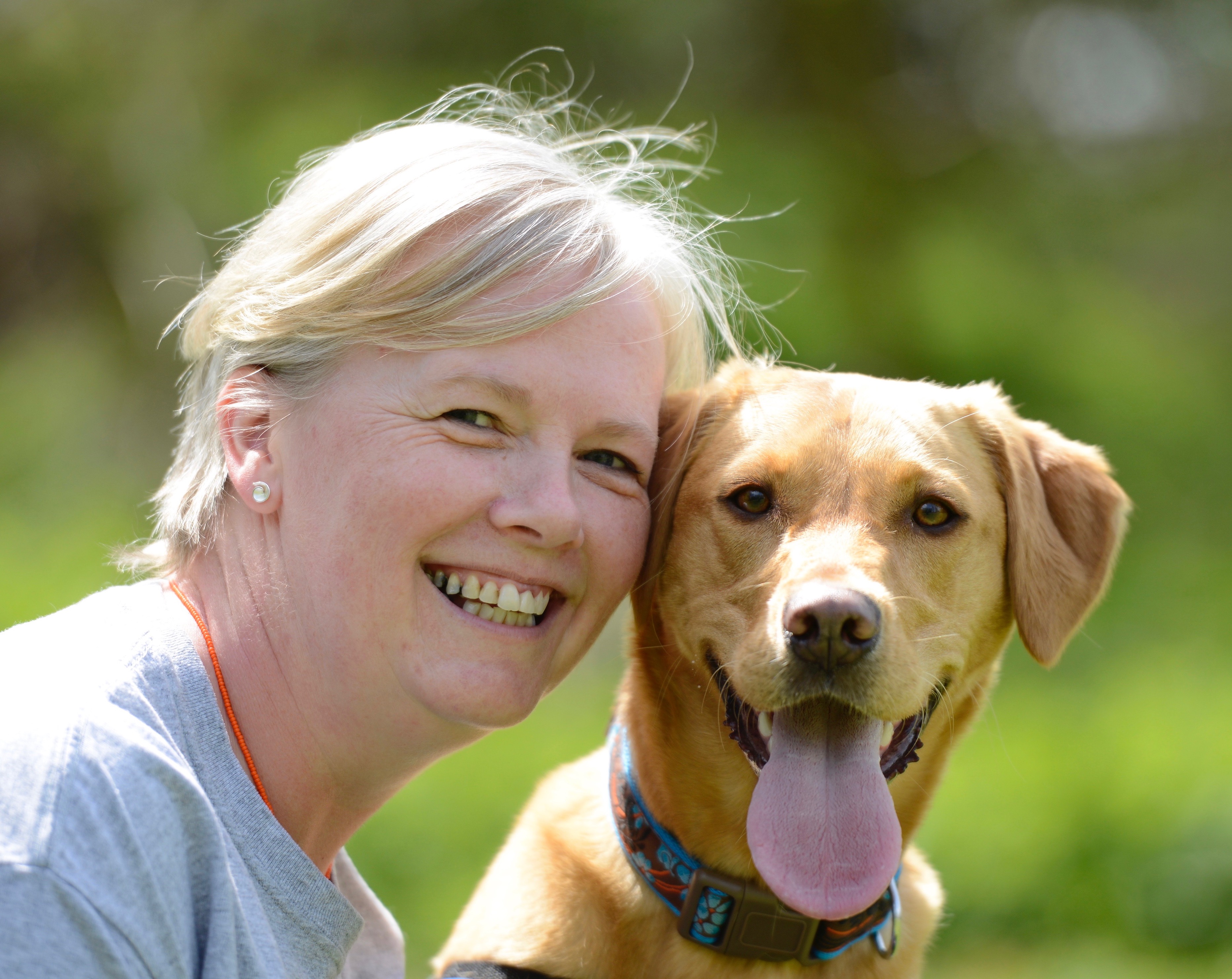 As a professional dog trainer for 30+ years, I have used scentwork to help thousands of dogs work with their owners to be more attentive, less reactive, more relaxed, less agitated. As a universal skill that can be learned by all dogs and all owners, the flexibility, fast results and good old fashioned fun found in scentwork led me to form
Talking Dogs Scentwork®
in 2011.
Since then I've been working hard to keep up with demand, such is the interest in scentwork. I work hard to stay at the forefront of my profession, staying creative, pushing boundaries and confounding expectations of what pet dogs can do. As the first national provider of scentwork training for non-selected (pet) dogs in Great Britain, TDS has quickly grown into the go-to scentwork training provider, with the TDS Detector Dog manual proving more popular than I could have ever imagined, selling well all over the world, but particularly in the UK, Europe and USA. I specialise in teaching all breed types, all ages, all abilities (physical, mental and emotional) Combining my years as a professional drug detector dog handler for HM Customs with my experience as a pet dog training and behaviour consultant, I tailor my teaching to dogs who don't have jobs, those who have been selected as companions rather than tools of the trade.
I work full time teaching Talking Dogs Scentwork® at workshops. online, at conferences and with major organisations, including Dogs Trust, Puppy School, Victoria Stilwell and the prestigious Woof! Conference.
Some of my working highlights include:

Drug Detector Dog Handler with HM Customs & Excise


Sirius Puppy Trainer in association with Dr. Ian Dunbar


Assistance Dog Trainer for Hearing Dogs for Deaf People


Behaviourist for Wood Green Animal Shelters

Founding & running Talking Dogs Scentwork®, part of Talking Dogs Ltd.

Creating TD Rally® - a sport for pet dogs & their people